Beginnings are beautiful. But they're also scary, confusing and frustrating. There are hundreds of possible first steps in starting a blog and your content marketing efforts. So many decisions to make.
How do I start a blog? Am I doing this right?
These are some of the most common questions. So we've put all of our best advice about starting a blog into one article. This is a mini-course in blogging 101 and content marketing. It will introduce all the main tactics, provide links that go deeper and show you how to get started on content marketing.
A few years from today, your content will be a solid source of awareness and traffic. It will have high rankings, vibrant social followings and a loyal subscriber list. It will be a durable fortress that you will build and defend.
Like a castle, you'll build it brick by brick. Like a castle, you'll build it on solid ground. Like a castle, it will have an army of allies.
Special Note: Beginners have an advantage over bigger brands. There are ways to do marketing that big companies can't touch. To see those specific tips, skip down to "building alliances."
---
Set the foundation
Here's how to set yourself up for future success. These aren't actions you'll repeat. Do them once, correctly and they're done.
1. Document your mission
The foundation of your blog is your content marketing mission. Simply writing down your content's mission statement will make you statistically more likely to succeed at content marketing.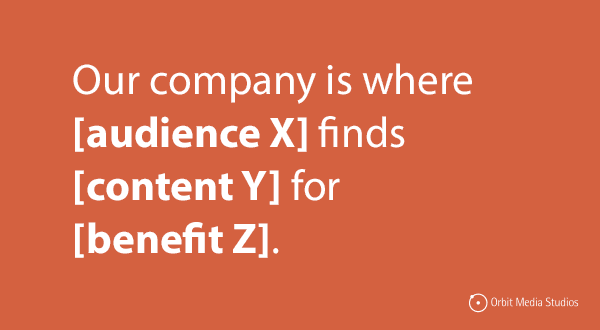 The process will force you to choose a niche. To niche down into a specific audience. That's the key to your long term success. The narrower the niche, the faster you'll get results.
This short animation will give you an overview of the big picture of content strategy:

Don't think about blog topics and content formats until you've decided who you're writing for and why they care.
2. Set your domain once and for all time
Your web address is the ground on which you build. Don't build on rented land. Never host your blog on someone else's domain (mysiteblog.medium.com). Your blog must be at the same location as the rest of your website (mysite.com/blog).
Changing your address is not ideal for your brand or your search rankings.
3. Start and stay organized. Create systems for capturing ideas and producing content.
You need tools to stay organized and efficient. A lot of veteran marketers regret not setting up organization systems sooner. Just pick simple, inexpensive ways to capture and create content.
A tool for capturing new ideas, from anywhere easily.
A place to keep partially written posts, after you take them out of the idea phase.
A list of finished posts and guest posts. This is your LBOW (lifetime body of work).
At Orbit, we use Google Suite for everything, including our content marketing template. But we know people who use Evernote, Office 365, WordPress and paper.
4. Create thank you pages ….and goals in Google Analytics
You're blogging for a reason. Your long term plan probably involves making money somehow, by generating leads for a business, selling a product or becoming an affiliate.
Before you start publishing, your website should be ready to capture and track website conversions. This means having a contact form and a thank you page. Not an email link. That thank you page will let you track goals in Analytics and measure success.
This is called a conversion and a destination goal. There will be very few at first, but you need to learn to track them accurately.
Note: Joe Pulizzi's book, Content Inc, suggests building an audience long before you know how to monetize it. We love that idea. But if you already have a product or service, make sure your site measures conversions accurately so you can measure the impact of your content.
5. Optimize your blog for email sign ups
From day one, the site should be built to grow your list. This is the key to getting maximum value from that early trickle of traffic. Your email signup form should include the three P's:
Prominence
It should visually stand out. It doesn't have to be a popup window, but it should, at least, use strong color contrast and be available very close to your content.
Promise
It should tell people what they'll get and how often they'll get it. You're trying to make an appointment with your audience. Commit to a frequency and tell them what it is.
Proof
It should include a third party endorsement. You have very few subscribers in the beginning, so you can't brag about the size of your list. Instead, use a testimonial quote from someone who loves getting your advice.
Here's a signup box that has all three P's:

A growing email list means less reliance on Google, Facebook and Twitter. You don't own your rankings or your social followings. But you do own your email list. Email is key to building a durable competitive advantage.
6. Polish your LinkedIn profile until it shines
When you're team is small, each personal brand is critical. So in the very beginning, your LinkedIn profiles are almost as important as your website.
You're about to start doing a lot of outreach. People are going to search for you. Google your name now. What do you see? Is LinkedIn there? Click on it. What do you see?
Anyone who sees your profile should give you an A grade in each of these categories:
Headshot
Title
Description
Recommendations and endorsements
---
| | |
| --- | --- |
| | "Don't be a LinkedIn slacker. That is, don't settle for merely signing up and checking in occasionally. Rock your profile in creative and compelling ways. Publish and share content often. And above all, make new connections and nurture the ones you've already established. LinkedIn is a network, so build your brand by networking." – Barry Feldman, Blogger, Podcaster, Author of The Road to Recognition |
---
7. Forget about technology
Don't waste time agonizing over tools and platforms. WordPress or Medium? MailChimp or Constant Contact? Who cares! It's not a factor in results. Results come from activity, not tools. This is all you need:
A way to publish blog articles (WordPress or similar)
A way to send email (any email service provider will do)
A way to measure traffic (Google Analytics is fine)
Please do NOT spend money on marketing automation in the beginning. You do not need marketing automation to get started in content marketing. It's probably a huge waste of money. Beginners who buy Hubspot often spend $1000 per month and only use it to send email.
Why try to automate something you've never done manually? Someday we'll share our list of criteria that you should meet before budgeting for marketing automation. If you want a preview, ask me in the comments.
Tech Tip: Try to use a URL structure that is search friendly and not likely to change. That means short, few slashes, keyphrase relevant and no numbers. So it's best if the address of a blog post looks something like this:
https://www.website.com/blog/save-money-marketing-technology/
Not this…
http://www.website.com/2017/10/5/9-tips-for-saving-money-on-marketing-technology/
A good content management system will let you set the URL for every post. Get started on the right foot with nice, clean URLs.
---
Make first content
Another regret that many longtime marketers have (I do) is not writing that big stuff sooner. Some of us waited too long to write our most valuable advice, missing a lot of opportunities.
8. Build a few strong pillars of content
Think of the advice you give most often. The most useful advice. Fit these into your mission and then start planning. You're about to go deep into these topics with a few huge articles.
They call this "pillar content" or "cornerstone content" or the center of a "content hub." It always meets a few of these criteria:
Deep, detailed and thorough (probably 2500 words, but concise editing)
Extremely practical with step-by-step instructions
Strong counter-intuitive opinion in a personal tone
Once it's live, it's great for social media because it's worth sharing, worth talking about. It's great for outreach because it's worth sending to editors as an example of your content. It's great for search optimization because it's worth linking to.
---
| | |
| --- | --- |
| | "Your audience wants content that is either helpful, relevant, educational or entertaining. Or all of the above. Sadly, too many companies focus their businesses and their content on themselves rather than the people who can unlock phenomenal growth and profitability – their customers. – Douglas Burdett, Host of the Marketing Book Podcast and Founder of Artillery Marketing |
---
9. Plan for visuals
Before you start cranking out a steady stream of 1000 word articles, let's think about what things will look like. Is everything going to be long pages with dense blocks of text? That's not ideal.
Plan on at least one image per article. You can use a free stock photo for the featured image at the top. Images can also break up those long blocks of text, keeping visitors engaged and flowing through the post.
Never miss a chance to add visuals that add value. It could be a diagram, infographic, video or simple illustration. It doesn't need to be fancy. Just look at Henneke. Her colored pencils are more powerful than a video production studio.